Testimonials
During the past years we have received lots of excellent testimonials from happy guests who had a great time at our place.
Testimonials | Tripadvisor
we are especially very proud that we have been able to maintain and receive for all these 8 years our Trip Advisor "Certificate of Excellence".
Testimonials | Eco-rating
Our Eco-rating on Eco Tropical resorts is another of the testimonials we are very proud of. Since the very beginning we have been trying to respect nature as much as possible. For example, our resort is off the grid and we use solar panels for electricty. Also, all bungalows and our restaurant are constructed in a way that they can capture rain water. You can read on our page on our ecological resort about all the measures we have been and are taken in order to preserve nature. Even the weddings we organize at Maya Luna are 100% Eco
Testimonials | Great kitchen reviews
Lots of testimonials talk about our excelent kitchen and the delicious food they had in our restaurant. This went not unnoticed by the website of Restaurant Guru, as you can see below.
Testimonials | Pet-friendly
Last but not at all least…we are one of the very few pet-friendly resorts in Quintana Roo. Our dog Ajax even has his own page on our website in which he invites all his buddies to play with him! As a consequence the website of Travelmyth has put us in the top 20 of hotels world wide who are pet-friendly!
Pet-friendly
DetectaHotel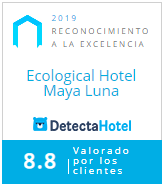 booking.com
Sometimes people ask us: What type if guests do you get? If you read some of the testimonials you will notice that our most happy guests always talk about the good food, our pet-friendly beach the tranquility of our resort. In short, our guests are nature lovers who are looking for that last piece of paradise not spoiled by mass tourism….where you can bring your dog and have some great food!
When you choose your holiday location, please note that Mahahual is still a small town. There is no shopping mall, so no big supermarkets like wallmart. When you are looking for a hotel with air conditioning, television and a fridge in the middle of the city…Maya Luna would be definitvely be the wrong pick.